This is my favorite time of year. Welcome to October! It's time for bonfires, pumpkins, pretty colors and (extra) coffee. It's also time for one other amazingly important thing. APPLES! It's time to break out the apples and cinnamon. Tis the season for for apple pies, cakes, breads, caramel apples, cider, and my favorite apple butter!
This is one of my favorite apple butter recipes, not only because it is easy, but because it comes out perfect, every time. This slow cooker apple butter recipe will be one you love for sure!
I've met a few people in my life who obviously are insane. Whaat?! How do you not like apple butter? My favorite way to eat apple butter is on a bagel with a bit of cream cheese! SO.GOOD.
But I also love apple butter waffles and apple butter banana bread. <—- Seriously, try those.
This recipe makes quite a bit. So you have plenty for baking or for giving. (I poured mine into (2) pint size jars, and (4) half pint jars.)
TIP: Pour your slow cooker apple butter into a jar while it is still hot. Place the lid on tight and flip upside down on the counter to cool. The heat from the apple butter should seal your jar. Flip over and press the center of the jar to be sure. If it is sealed, you can store it in your pantry!
Slow Cooker Apple Butter Recipe
Slow Cooker Apple Butter is amazingly easy and even more amazingly delicious! Makes several jars, but you can seal them (see tip above) and store in your pantry or freeze them. Makes great homemade gifts! Apple Butter is also a good tool for bribery ?
Course: Snacks
Ingredients
10 pounds apples I like a good mix for my types of apples!
1/2 cup apple cider vinegar
2 cups sugar
1 cup brown sugar
2 tsp cinnamon
1/4 tsp ground cloves
1/4 tsp salt
Servings: 4
Instructions
Peel and core your apples.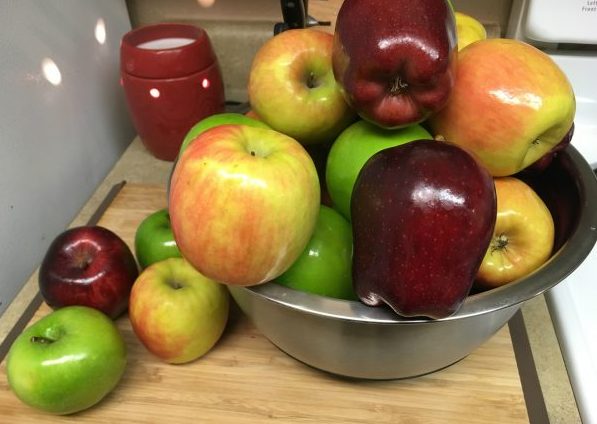 2. Dice your apples and put into your slow cooker.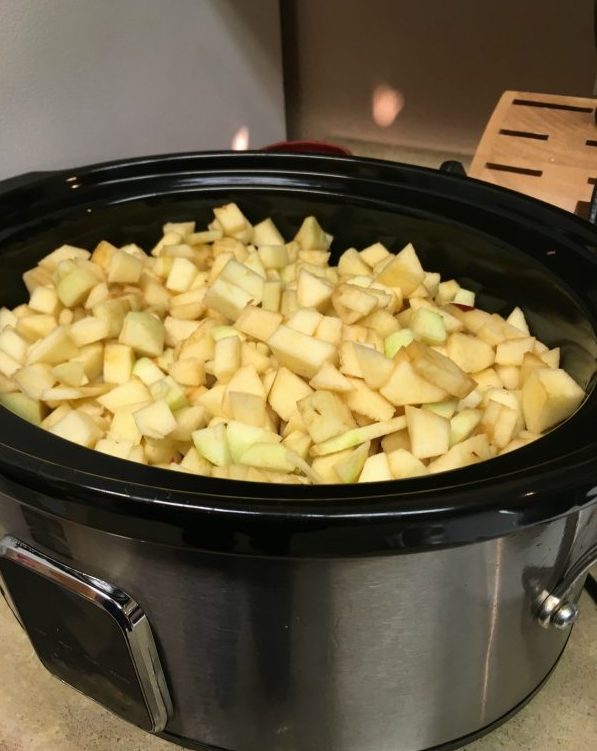 3. Pour in 1/2 cup apple cider vinegar and mix so the apples are evenly coated.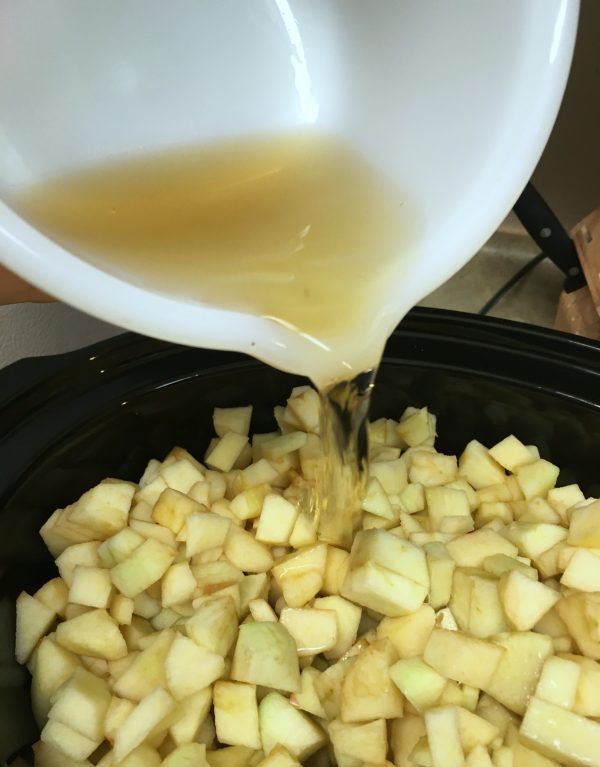 4. Cook on low for about 10+ hours. (Cooking times aren't exact. I probably left mine on for more like 12 hours and it was fine!)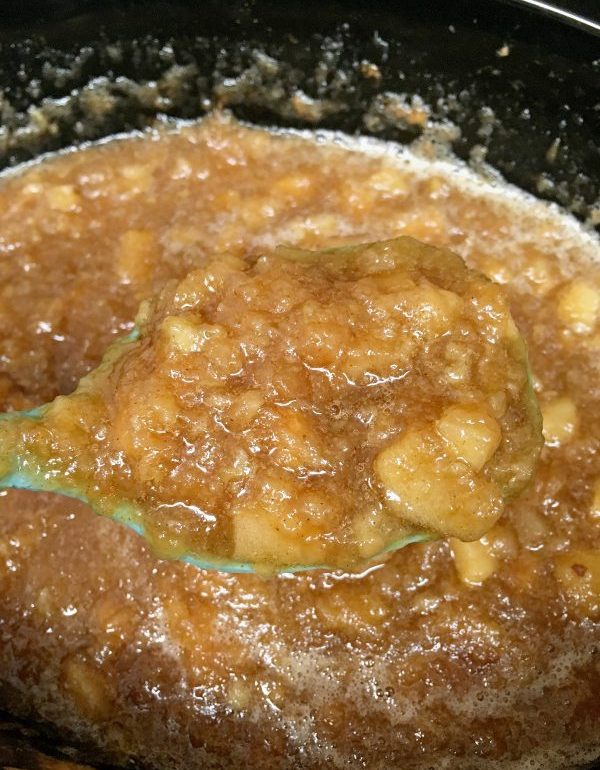 5. Add both sugars and the spices, mixing well.
6. Cover and cook for another 6-10 hours. (Again, you will be fine if you cook a bit shorter/longer!)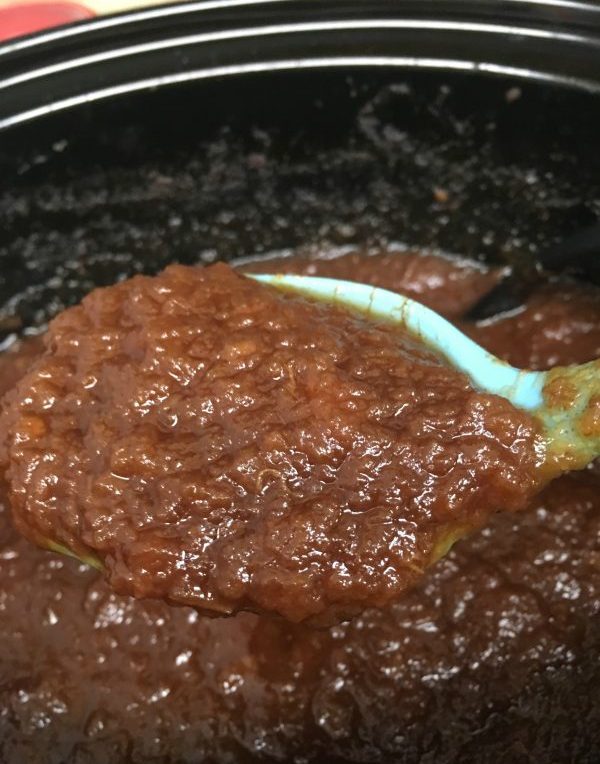 7. Use a hand mixer, immersion blender or even a regular blender quickly to get the consistently a bit smoother. If you like your apple butter a bit chunky you can leave it as is.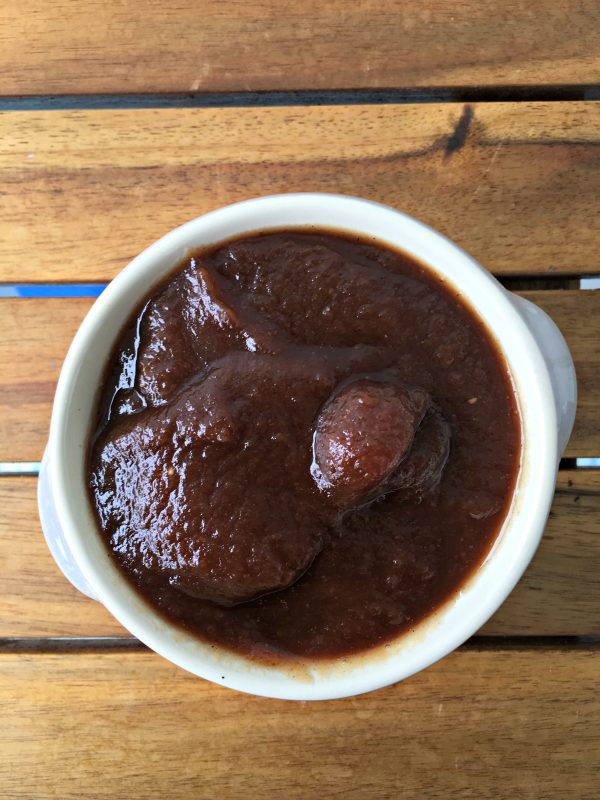 That's it. Super easy and super flexible for cooking times. Give it. Eat it. Store it. Hide it. Whatever you do with it, this slow cooker apple butter recipe will make you glad you did!
Don't forget to pin this slow cooker apple butter recipe!
This recipe was originally found at One Little Project! She has lots of great recipes. Be sure to check them out!